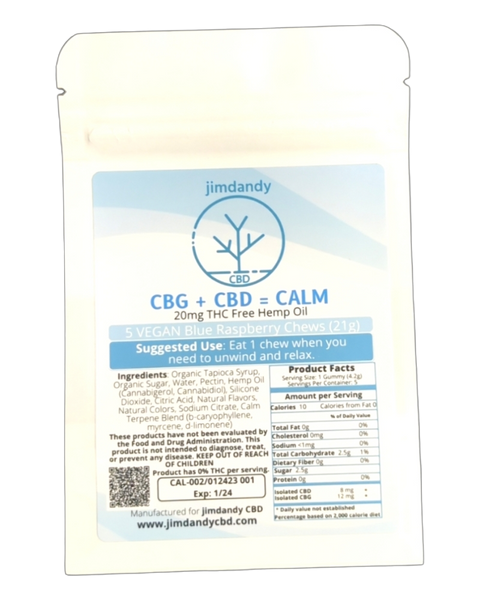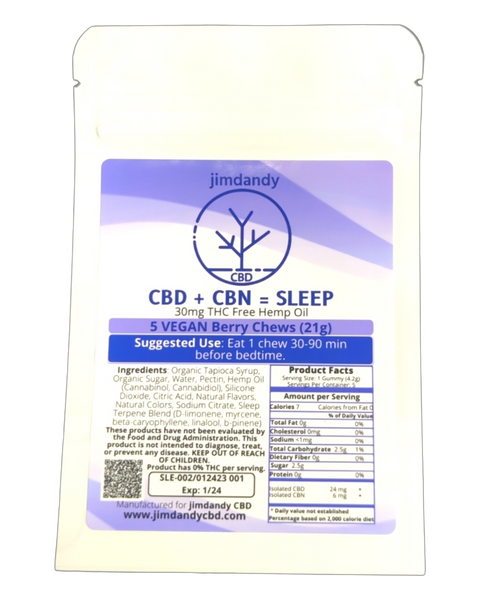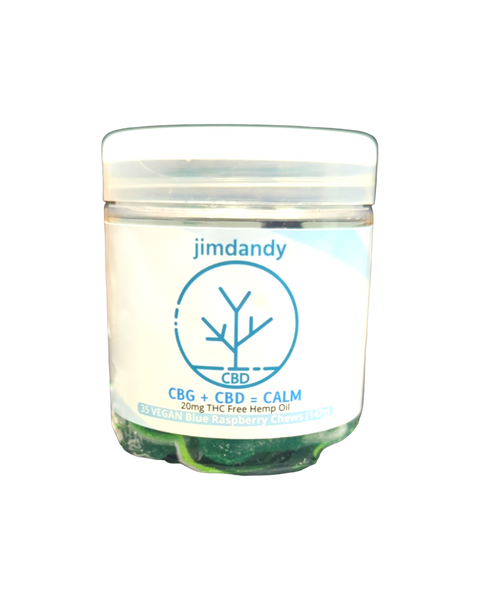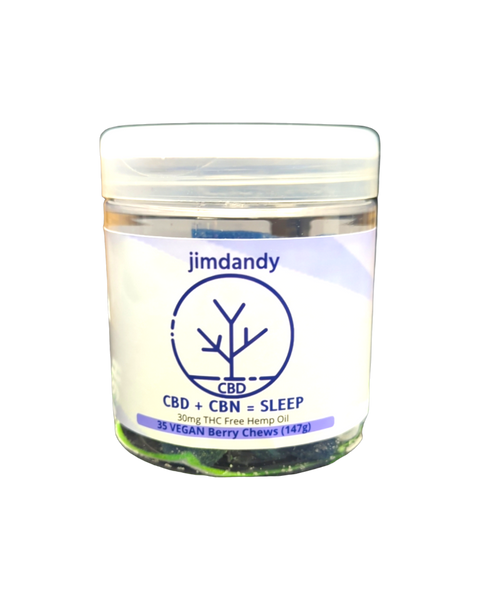 jimdandy CBD's Hemp Chews
jimdandy CBD hemp extracted THC-Free vegan fruit chews. 

Energy - CBC - Ingredients: Organic Tapioca Syrup, Organic Sugar, Water, Pectin, Hemp Oil (Cannabichromene, Cannabinol), Silicone Dioxide, Citric Acid, Natural Flavors, Natural Colors, Sodium Citrate, Energy Terpene Blend (myrcene, a-pinene, c-caryophyllene, b-pinene)

Calm - CBD + CBG - Ingredients: Organic Tapioca Syrup, Organic Sugar, Water, Pectin, Hemp Oil (Cannabigerol, Cannabidiol), Silicone Dioxide, Citric Acid, Natural Flavors, Natural Colors, Sodium Citrate, Calm Terpene Blend (b-caryophyllene, myrcene, d-limonene)

Sleep - CBD + CBN - Ingredients: Organic Tapioca Syrup, Organic Sugar, Water, Pectin, Hemp Oil (Cannabinol, Cannabidiol), Silicone Dioxide, Citric Acid, Natural Flavors, Natural Colors, Sodium Citrate, Sleep Terpene Blend (D-limonene, myrcene, beta-caryophyllene, linalool, b-pinene)

Reset - CBDA + CBG - Ingredients: Organic Tapioca Syrup, Organic Sugar, Water, Pectin, Hemp Oil (Cannabigerol, Cannabidiolic Acid, Cannabinol), Silicone Dioxide, Citric Acid, Natural Flavors, Natural Colors, Sodium Citrate
Relief - CBDV + CBG - Ingredients: Organic Tapioca Syrup, Organic Sugar, Water, Pectin, Hemp Oil (Cannabigerol, Cannabidivarin Cannabinol), Silicone Dioxide, Citric Acid, Natural Flavors, Natural Colors, Sodium Citrate, Relief Terpene Blend (b-caryophyllene, myrcene, a-pinene, d-limonene)
These products have not been evaluated by the Food and Drug Administration. This product is not intended to diagnose, treat, or prevent any disease. KEEP OUT OF REACH OF CHILDREN.
Testimonials
What our amazing customers are saying --
The best. Highest quality. Great service. Great location. Totally awesome! 👍⚔️
WOW!  I bought a bottle of CBD for my dog to calm her during the 4th of July.  I can't even give it 5 stars, it deserves 1000.  She's 90 lbs and we gave her around 30-35 drops at dinner time (6:30) and by the time fireworks started she is just calm and ready for snuggles.  I did start with 15 drops and worked my way up from there.  Huge thank you for their product and how it helps my fur baby!
Very friendly. Beautiful glass pieces. Definitely worth stopping at! Unusual and difficult to find...
So this place is doing it right! Best prices in town and the stuff is not cheap stuff. They literally won't gouge you over price. They have some really cool stuff in there, Stuff that no one else has in Rapid City, stuff that makes you raise an eyebrow. Can't say enough, they are friendly, personable and knowledgeable about their products. If you have questions about their products, they are available and very willing to discuss and answer all of your questions.

If you want something that you don't see there, they will order it for you! Can't say enough.
The staff is super friendly, down to earth, and extremely knowledgeable. I suffer from arthritis pain in my upper spine and was looking for something to ease the pain where pharmaceuticals have failed. The staff turned me on to jimdandy and I couldn't be more satisfied. I believe EVERYONE should check these guys out. 10 out of 10!
Thanks, Gater, for your great customer service.  Loving the new store.  Great selection.  Easy to talk to ...
CBD products are amazing and works amazingly. The knowledge of staff is truly remarkable!!
Quality products and a knowledgeable staff.  Great customer service.  Great glass selection.
Amazing staff and products, don't hesitate, stop in today!!
Kyle and Jeremy are great people who take the time to answer questions.  Tried one of their CBDs and it's the first time I feel as though something is working,
Probably one of my favorite head shops in town! The owner is super knowledgeable and super kind. Definitely going to be doing business with them!
Best prices and variety in town!  Also, the workers were super friendly and helpful.
Love this place! The people are great and they have some dang cool products!
Find Us
Check out our store on a map --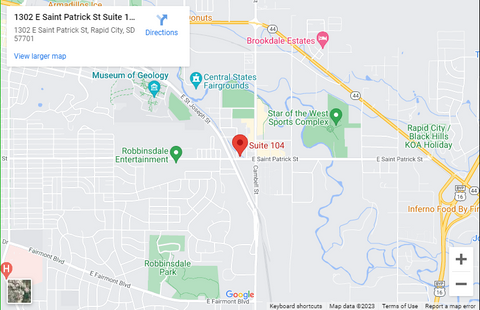 The Head Shop
1302 E. St. Patrick St., Suite 104
Rapid City, SD 57701

605-877-2280
Store Hours
Monday - Saturday: 10:00 - 8:00 MT
Sunday: Closed